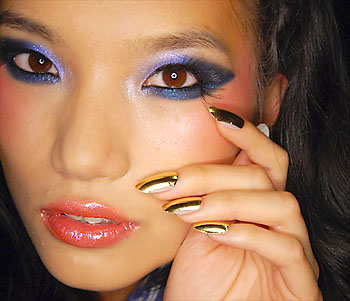 I'm always looking for the least expensive way to make my nails funky and trendy. One night I was watching YouTube videos and came across some tutorials on how to apply Nail Foils by UK based company
Nail Delights
.
They are super easy to use and cheap. Each foil that you purchase is 5 Feet Long and costs about $3! For some reason when I ordered mine I got an additional discount and free shipping. I'm not complaining though. If you can paint your nails you can do this. They have tons of metallics, prints, and patterned foils. Here is what I ordered: 5 Nail foils in Peach Burst, Passion Pink, Gold, Vivacious Violet, and Electric Blue. I also ordered 2 nail foil adhesives which is NECESSARY for the foils to stick.
Nail Delights Nail Foils and Adhesive



Here's a YouTube Video of how to apply the Nail Foils
But if you don't want to watch that vid here are my steps...
Unroll the foil and cut 10 strips ( or however many you want). Make sure you cut them a bit larger than your nail.
Clean, buff, and file nails as needed.
Apply base coat. (Orly Rubberized Bonder)
Apply two coats of nail polish that is a similar color to the nail foil you are using and allow it to dry for about 10 minutes.
Apply thin coats of the Nail Foil Adhesive to your nails and allow to dry. (The adhesive is very thin and watery)
Take one cut foil and place it on your nail and smooth over your nail from the base to the tip starting at the sides until the foil loosens.
Lift the foil. If you see holes where the foil didn't take just take the same foil and press it onto the nail.
Repeat on each nail and apply top coat.
I tried two of my foils and got great results. The foils lasted about 3- 4 days. A few things I noticed is that if you have ridges or lines on your nails, you should softly buff them away before painting your nails. Also, do NOT use a quick drying top coat. It will cause the foil to crease and wrinkle. Nail Delights does have a special topcoat for the nail foils but it was out of stock when I placed my order so if you can get that you're set!
Vacation Time and This Is It
Peach Burst Nail Foil with Sinful Colors Vacation Time
Gold Nail Foil with Sinful Colors This Is It